Lifting As We Climb
The Foster School welcomes back alumna Michelle Purnell-Hepburn as the new associate dean of inclusion and diversity
Michelle Purnell-Hepburn (BA 1979, MBA 1982) is no stranger to the UW Foster community. She earned her undergraduate degree in business economics and finance, and her MBA specializing in accounting and finance at the Foster School. She was a member and president of the Association of Black Business Students (ABBS) during her time as a graduate student and in 2021 was awarded the school's Spratlen Legacy Award, named in honor of the late Dr. Thaddeus H. Spratlen. Last year, she taught a class at Foster entitled "The Power of Access: Impact Lending to Underserved Communities."
Purnell-Hepburn has extensive experience in the financial services and nonprofit foundation industries. She most recently served as the director of Diversity, Equity and Inclusion (DEI) at the Seattle Foundation. She has also held executive-level leadership positions at Salal Credit Union, Seattle Metropolitan Credit Union and Group Health Credit Union.
She served on the advisory board of Capitol Hill Housing and currently serves on the board of trustees of Community Roots Housing.
In her role as associate dean of inclusion and diversity, she will serve as a member of the senior leadership team at Foster.
A family legacy of DEI
Purnell-Hepburn credits her family's motto of lifting as we climb for her DEI passion. Her parents, James C. and Mardine Purnell, along with nine fellow Central District community members opened Liberty Bank of Seattle in 1968 as Washington State's first minority-owned bank.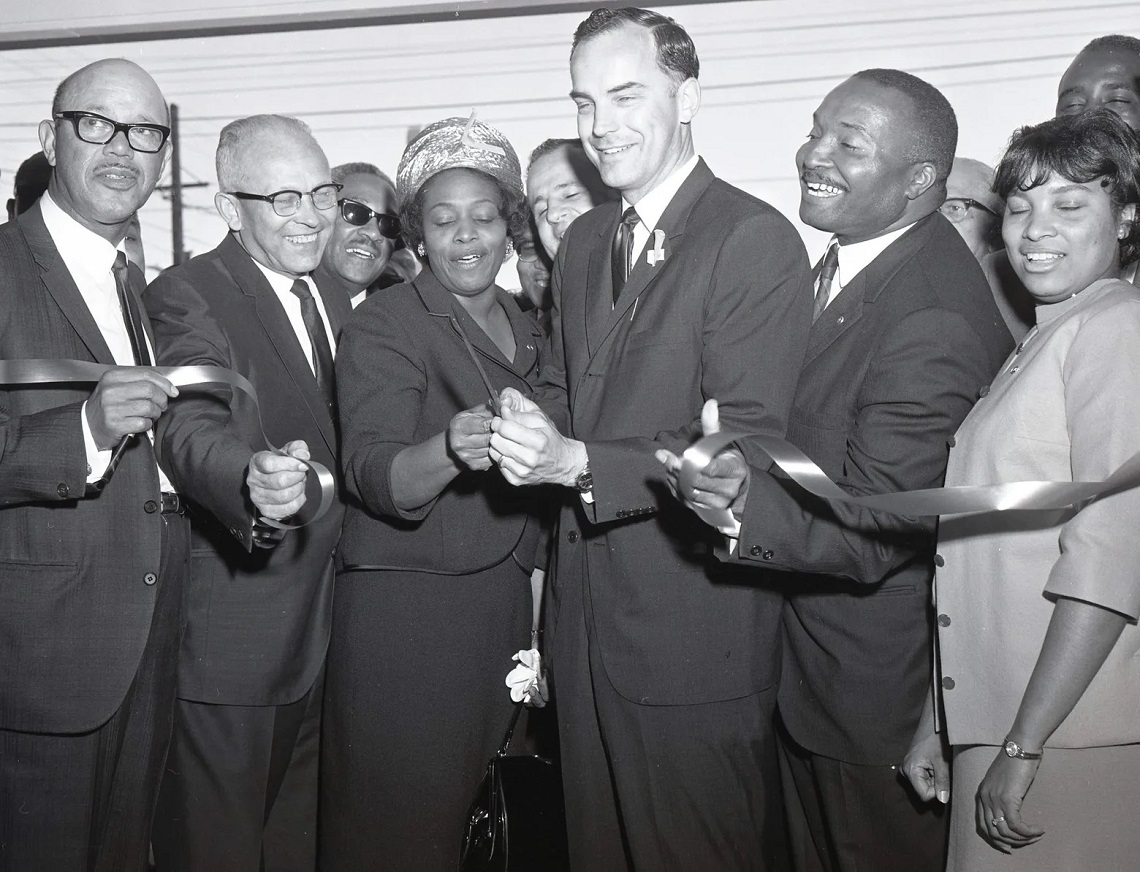 During this era, most mainstream banks held discriminatory redlining practices, in which resources or services are withheld from potential customers who reside in neighborhoods classified as "hazardous to investment." The idea of a Black-owned bank grew out of the desperate need for a financial institution that would provide access to capital, including mortgages and business loans, in communities of color.
James Purnell, with his lodge brothers, also founded Sentinel Credit Union as part of their efforts to support their community.
"I was fortunate enough to have parents who did what they could to support their community," says Purnell-Hepburn. "So, that's what I do. I don't know how else to be."
Most Purnell family members have also attended the University of Washington with a strong focus on business and law in an effort to continue serving their community and beyond.
Top priorities at Foster
When asked, in the first week of her associate deanship, about her plans at Foster, Purnell-Hepburn jokes, "Well, first I want to learn the job."
"However, my platform is belonging," she continues. "When we are secure within ourselves, we are much more welcoming to anyone else."
One of Purnell-Hepburn's highest priorities is enhancing communication between faculty and students and bridging gaps. She explains that while many current students have been surrounded by conversations about mental health, gender fluidity, sexual orientation, spirituality and diverse cultural backgrounds during their formative years, that is not always the case for faculty.
My platform is belonging. When we are secure within ourselves, we are much more welcoming to anyone else.
She plans to incorporate the research of her mentor, Dr. Edwin Nichols, on how different cultures and groups process information or the "cultural philosophy of cultural difference."
"We want students to come and absorb everything that we teach," she says. "But that must shift to be a two-way stream. It is also our turn to be lifelong learners."
Another of Purnell-Hepburn's priorities is engaging the Foster alumni community. She believes there is an opportunity to project a welcoming atmosphere by connecting people with similar lived experiences. "We all need mentors and executive coaches," she explains. "Let us support our students—especially our underrepresented students—by having them meet and be involved with underrepresented alumni."
A culture of belonging
Purnell-Hepburn received essential support during her own educational journey at the Foster School. "This was a very challenging place to get through as a young Black woman," she reflects. "However, I got through it because of my family and mentors like Dr. Thaddeus Spratlen, Dr. Liz Reynolds and Diane Martin."
She hopes her experience as a student will help her connect with the greater Foster community and support a culture in which more students of color feel welcome and wanted.
"I hope in this role," she says, "as a 'Double Dawg' and a Black woman with my curly hair and the melanin in my skin, I will help students realize they can also achieve their dreams."
Using a platform of abundance and belonging, Purnell-Hepburn looks forward to sharing her belief that diversity makes academia and the business world more creative and makes people stronger.