The Primacy of Privacy
Robert Palmatier's expertise on the upside, downside and dark side of big data marketing is drawing major awards and delivering important insights
In 2017, The Economist declared that "the world's most valuable resource is no longer oil, but data."
Big data has become big business. Its collection and consumption are measured, almost unfathomably, in zettabytes—and growing exponentially. And the exploding field of market analytics is turning that data into decisions that create a competitive advantage for firms that do it better than the rest.
All of this, though, can be unsettling to consumers. While volumes are written and organizations smitten on big data, most of us really just care about little data. Our data.
This growing tension between marketer and marketed is making data, writ large, a veritable polyhedron of intersecting stakeholders, interests and concerns.
But casting a guiding light on this mysterious, multifaceted issue is Rob Palmatier, a professor of marketing and research director of the Center for Sales and Marketing Strategy at the University of Washington Foster School of Business.
Through academic studies, practical books and cutting-edge consulting on the subject, Palmatier has established himself as a one-man SWOT analysis of data marketing and management. In the past few months, alone, three different publications of his have landed prestigious awards—and delivered significant insights on many aspects of this emerging issue.
Dark side of big data
Palmatier's 2018 Journal of Marketing paper "Data Privacy: Effects on Customer and Firm Performance" has become a genuine sensation, inside and outside of academia.
It won the Marketing Science Institute's Buzzell Best Paper Award in 2018 and was a finalist for the Journal of Marketing Maynard Award. It was MSI's most-downloaded content of 2018, earned a 99% Research Interest Score by ResearchGate and was named a Highly Cited Paper by Web of Science. It was selected by Nature as an important research highlight, published in Harvard Business Review and reprinted as a feature chapter in a HBR book on customer data privacy.
This year, "Data Privacy" was singled out for the Sheth Foundation/Journal of Marketing Award, recognizing one paper each year that has made the biggest long-term impact on the discipline of marketing.
And for good reason. The groundbreaking study, co-authored by Kelly D. Martin and Abhishek Borah, explored the "dark side" of data marketing—and the inherent feelings of vulnerability it causes.
Firms are starting to use privacy and trust as ways of differentiating themselves for consumers who will use that to pick who they want to do business with."
The researchers established that the simple act of surrendering personal and financial information to companies is enough to trigger feelings of vulnerability. This exposure exacerbates the financial cost to firms—and sometimes even their competitors—when they fall victim to a data breach.
But Palmatier and his co-authors also determined that firms can soften the financial blow by offering customers a clear explanation of how they collect and use their data, as well as opportunities to opt out of certain data collection practices.
"Our findings," says Palmatier, "suggest that firms need a more tempered approach to data and analytics initiatives that involve the collection and use of customer information."
The retailer's dilemma
A second award-winning study concerned one of the earliest adopters and most-determined users of big data – the retail industry.
"Data Privacy in Retail" received this year's William R. Davidson Award for the year's best article published in the Journal of Retailing—though you'd be more likely to have seen it featured in a special report on the "Retail Renaissance" in The Economist (March 13, 2021).
This study—with collaborators Kelly D. Martin, Jisu K. Kim, Lena Steinhoff, David W. Stewart, Beth A. Walker, Yonggui Wang and Scott Weaven—examined three emergent themes for understanding the inevitable convergence of interests among retailers, consumers and regulators. First, that big data is driving the customer relationship performance. Second, that regulation is going to have a profound impact on the relationship. And third, that privacy protection works best when proactive rather than reactive.
"Even as we acknowledge this expression of the urgent need for data privacy conversations, we are encouraged by the striking convergence of consumer, regulatory and retailer imperatives," the authors write. "The time seems ripe for a breakthrough agreement regarding how to manage big data in the retail environment, responsibly and in a way that promotes all parties' interests."
Smarter data marketing
Palmatier's 2019 volume, The Intelligent Marketer's Guide to Data Privacy: The Impact of Big Data on Customer Trust, won this year's Leonard L. Berry Marketing Book Award, given by the American Marketing Association to recognize innovative ideas that have made a significant impact on marketing.
This comprehensive text, written with Kelly D. Martin and drawing on a multitude of studies, covers all aspects of data marketing and is written with the marketing manager in mind. In doing so, it keeps the focus, as any good marketer would, squarely on the customer.
Palmatier and Martin outline growing tensions over data privacy, navigate deep-dives into the psychology of consumer privacy and examine the shifting legal landscape on privacy—in ways that are both practical and actionable, "and backed up by concrete research findings and not merely a collection of anecdotes and stories," Palmatier adds.
They also offer practical and actionable defensive strategies (big data marketing applications, ways of inoculating against customer vulnerability, tips to recover from privacy failures) and offensive strategies (understanding and valuating customer data, executing marketing audits, benchmarking and metrics, and enacting effective privacy marketing strategies).
"Our summary," Palmatier concludes, "offers a glimpse into how customers think about the data privacy practices that are most likely to matter to marketers."
Privacy as strategy
They matter a lot. So much, in fact, that Palmatier believes that companies need to start viewing data privacy not as a compliance or security issue, but as enterprise strategy.
"In the past, privacy was the domain of IT. You just did what you had to not to get into trouble," he says. "But now, firms are starting to use privacy and trust as ways of differentiating themselves for consumers who will use that to pick who they want to do business with."
That's especially so with the raft of new regulations coming online. Policy makers have already responded to consumer concerns by enacting new data privacy laws in over 120 states and countries, expanding on the bellwether California Consumer Protection Act and the EU's General Data Protection Regulation. And while only 10% of data was protected by statute in 2020, it's predicted that 65% will be protected by the end of next year.
The complex landscape of data privacy, its marketing applications, and its many customer implications sometimes make the path to doing the right thing obscure and difficult to find. We hope to clear the path, in a way that benefits the customer and, ultimately, creates better business practice."
The gold rush days of unfettered data mining are numbered, and a reckoning awaits.
"The landscape is shifting," Palmatier says. "Regulators are ultimately going to let your data be used only if you authorize it. And companies won't be allowed to kick you off the platform if you refuse to give them your data. This changes the game."
There will be winners and losers, naturally.
Poised to struggle in this new world order are companies like Google and Facebook, which amassed massive value by giving away their services for free and selling the data they collected. As a kind of warning shot across the bow, Facebook saw its stock price plummet 26 percent this February upon news that Apple would start enabling iPhone users to prevent apps from tracking their online activity—potentially damming a torrent of consumer data to eager advertisers.
Meanwhile, Palmatier says, "the winners are going to be the companies that customers trust with their data."
Research in action
This means that firms need to get ahead of this sea change, which could mean leveraging the customer trust they already have built or restoring trust that has been broken (or, in many cases, never really existed at all).
In either case, Palmatier is expanding his deep data explorations into expert strategy guidance for real-world organizations. Through the Center for Sales and Marketing Strategy and the affiliated Sales and Marketing Strategy Institute (also founded and directed by Palmatier), he and renowned research partners from Foster and around the world are providing intelligence to all manner of companies.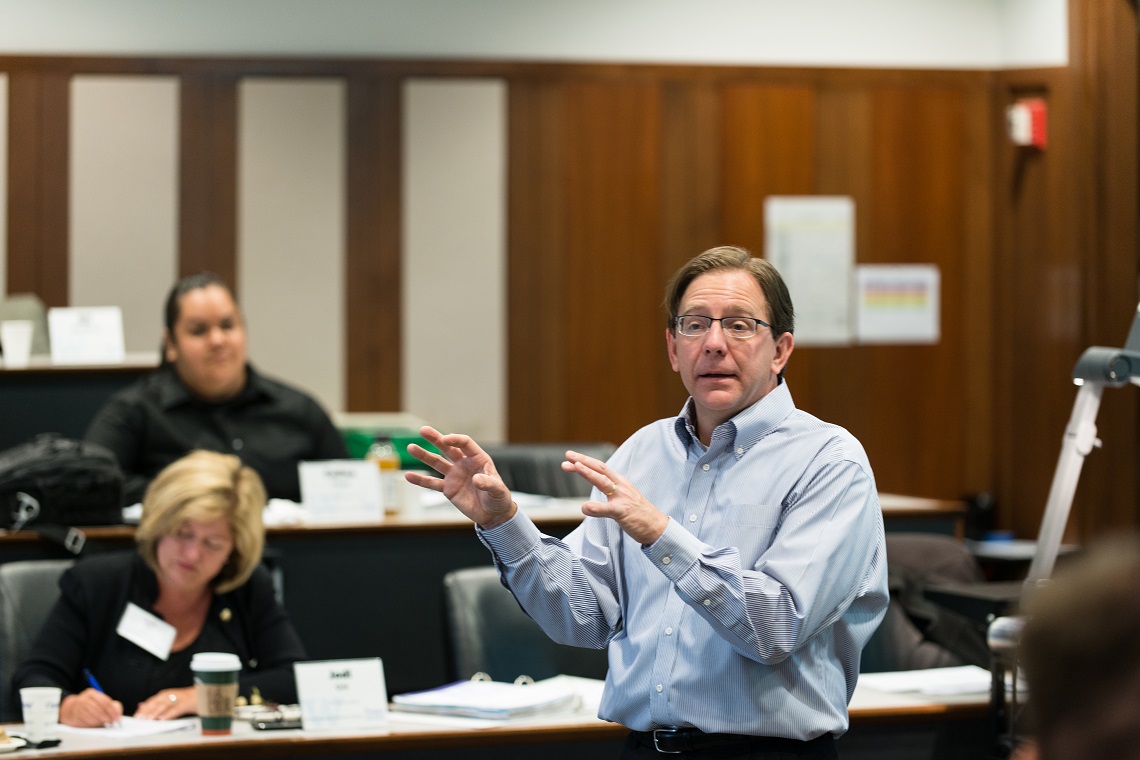 For instance, Palmatier is currently working on a white paper with Microsoft, a company he says has been a responsible steward of customer data, to better understand the role of privacy from the perspectives of both consumers and firm stakeholders (data managers, legal, compliance).
The objective of these client companies is to balance a fine line: collecting data responsibly to create more effective marketing that customers actually want—without eroding their trust.
"We know that marketers strive to do the right thing by their customers," Palmatier writes in the foreword to The Intelligent Marketer's Guide. "The complex landscape of data privacy, its marketing applications, and its many customer implications sometimes make the path to doing the right thing obscure and difficult to find. We hope to clear the path, in a way that benefits the customer and, ultimately, creates better business practice."